Since there are so many alternatives among the various tiles, people may feel difficult in choosing the most desirable and suitable tiles for kitchen wall. In general, people would like to add some romantic or fashionable factors into kitchen. Glazed tiles are preferred by some customers to create a feeling of fashion. Then the tiles of designs and colors will add more elements to express the creative ideas. The most important thing one should keep in mind is that the tiling process should be paid much attention to; otherwise the kitchen will impress people with dazzled pictures and uncomfortable visual impact. The following passage will show some ways of tiling kitchen, which will help give you more options on both kitchen tiles and decorative creation.
1. Make Full Use of the Waste Materials
You may find that there are always some waste materials left from house decoration. It is usually a boring task to dispose them. Anyway, what you need is a method that can be helpful in finding proper way of disposing the unwanted materials. Now you can turn your eyes to kitchen wall decoration. You will be surprised that remaining materials such as ceramics and glass mosaic tile will make great difference. After cracking them into small sizes, you will tile them onto kitchen wall according to your own ideas and creative ideas.
2. Create a Fresh and Active Style in Your Kitchen
When it comes to kitchen, fruits and plates are always key factors since they will immediately bring us into the familiar situations of kitchen. So you could install a shelf onto the wall at the approachable height, placing two or three plates with some oranges vertically against the wall. And the wall of blue tiles seems to present people with the fresh and clear air.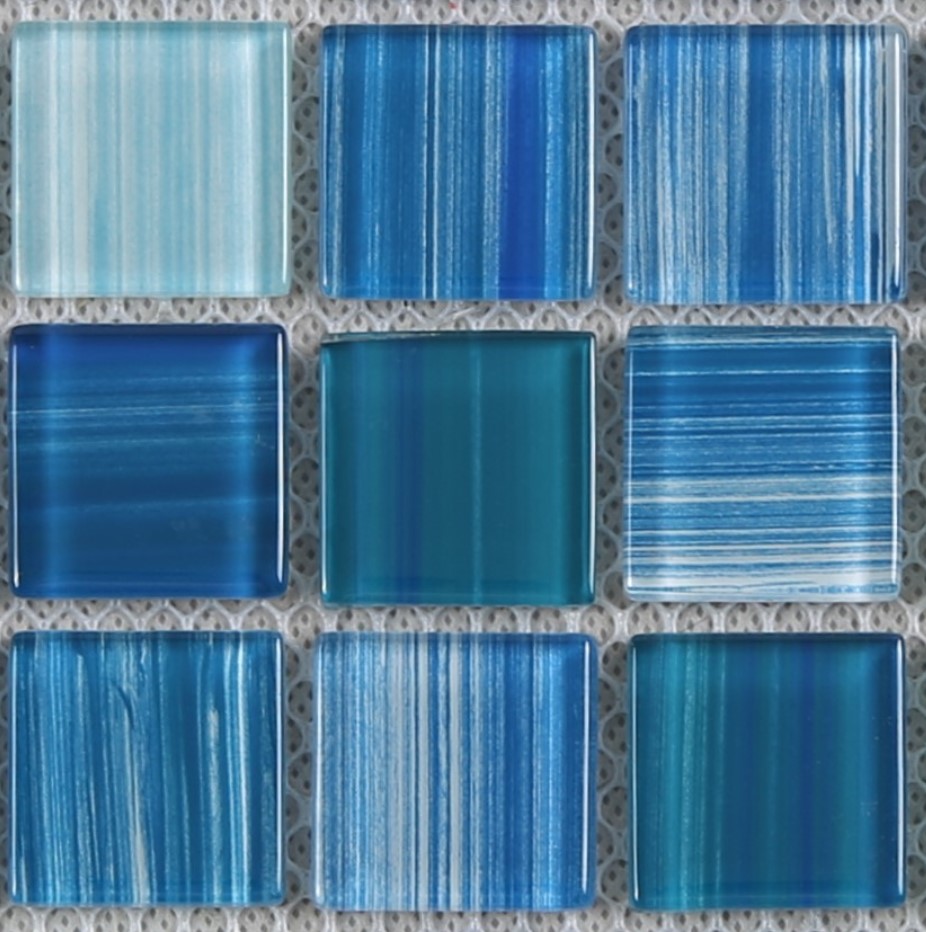 3. White Cupboard Adds the Sense of Beauty
If you are a traditional person who wants to decorate your kitchen with natural style, then you should consider the combination of green and white. First the white wood cupboard is a good choice since it coincides well with those white bowls, plates and cups. Then the wall should be decorated with the tiles of white and green color, which successfully build a natural atmosphere.
4. Yellow Tiles as Background of Cooking Bench
With the method of part wall being applied on kitchen wall, the yellow color will be the most desirable choice in lighting the whole environment. It is also convenient for people to clean tiles. There is no doubt that both the yellow wall and wood floor would express the high quality of kitchen.
5. Tiles of Small Size Become More Popular
Now there is an increasing trend in applying the tiles of small size into the decoration of kitchen wall, since they can be used to create many unexpected effects. That is to say, if the space of your kitchen is limited, then the tiles of small size will be proper choice to change the original visual effect. Light color is especially helpful in expanding the visual range.
6. Old-Fashioned Tiles Help to Remind You of Good Old Days
For those who love food and cooking, the tiles of antique style will be perfectly used to create a kind of unexpected effect. Usually the artificial pictures are drawn onto the glazed surface, and even the gaps between two tiles would well correspond to the classical style. Fashion, simplicity, and details are all illustrated on the kitchen wall.
In a word, what you have to do is to imagine and decorate your kitchen with any possibility.